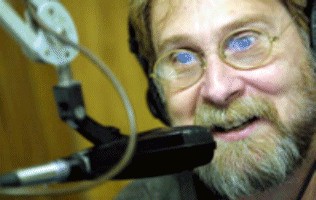 Playin' the blues
Kentucky Headhunter fills free time spinning
discs on a Bowling Green radio show
--------------------------------------------------------------------------------
By Alicia Carmichael, acarmichael@bgdailynews.com -- 270-783-3234
If you want to get the lowdown on a hoedown, check out Kentucky Headhunter Greg Martin's Monday night blues-based radio show on WDNS-FM in Bowling Green.
Martin, a member of the Grammy Award-winning country group the Kentucky Headhunters, brought the "Lowdown Hoedown" to the station two weeks ago at the request of WDNS Program Director Brian Locke.
"He'd called me a year or two ago when I was doing the show at WVLC in Campbellsville," said Martin, who had in the 1980s done a similar radio show in Munfordville. "He asked me if I'd be interested in doing a show, but I was still in Campbellsville."
At the time, Locke was working at WBLG-FM radio in Bowling Green.
Last year, an increasingly busy Martin gave up the show in Campbellsville.
He approached a radio station in Glasgow, where he lives, about doing a show there, but "it didn't work out," Martin said. "I thought, 'Are my radio days over?' "
But in September, Martin got an e-mail from Locke, who had begun working at WDNS and again approached Martin about doing a show.
"I knew he was a blues aficionado and I heard him on the Campbellsville radio station," Locke said. "When that fizzled, I knew that someday I would be at a station where his show would fit."
Locke said "Lowdown Hoedown" is a perfect fit for WDNS' classic rock format.
"Most all of classic rock is very derivative of the blues," he said. "When you hear the blues, you can hear where classic rock came from, so it's not a big stretch."
While 48-year-old Martin may be best known for playing music that many consider country, he feels a strong connection with the blues.
"Blues seems to be the music that kind of touched me the deepest," he said.
While growing up in Louisville and Edmonton, Martin listened "to a lot of rock and roll," he said. "My influences were the Beatles and the Rolling Stones, and they were really steeped in the blues. When Eric Clapton and Cream and the Jeff Beck Group sprang on the scene, they really influenced me."
Martin became interested in classic blues music when he noticed that many famous blues musicians were playing on the albums of rock and rollers he loved.
"It touched my heart, I guess," Martin said.
On the "Lowdown Hoedown," Martin plays about 80 percent of the blues music he came to love, along with some black gospel music.
Musicians such as Muddy Waters can be heard on the show.
The music takes Martin back in his memory to a time when he would sit in his father's car at night for hours, trying to find the best radio stations around.
"At night, I'd see how many stations I could pick up," he said.
One of his favorite stations boasted a disc jockey named Big John R.
"He was a Jewish man, but he sounded black," Martin said. "And that touched me."
Locke thinks Martin's love of the blues comes through on his show. He said Martin throws in facts about musicians before and after playing their songs.
"He'll give a good analogy about how Led Zeppelin got a great guitar lick from a song," Lock said.
Also, the show "is cool, but we're educating with this show as well as entertaining," Locke said. "You don't usually do that with a music-dominated format."
It's important for Martin to continue the show – which will be aired live unless he has to perform somewhere – even though he travels about 100 times a year with the Headhunters.
"I love radio," he said.
"The Lowdown Hoedown" airs Mondays on WDNS-FM 93.3 from 7 to 10 p.m. Martin will take requests on the show by phone at 793-9367 or (888) 847-9367.